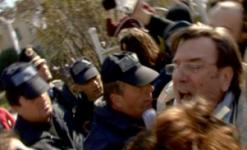 Albanian police shut down the country's only film school, the Marubi Academy, on Tuesday arresting its dean and several students over a property dispute with the Ministry of Culture.
The dispute concerns property that the academy, headed by filmmaker Kujtim Cashku, occupies in the state-owned film Alba Film studios.
Cashku was arrested on Tuesday morning after barricading himself insise the academy for several days with its students, rejecting the eviction notice served by state police as illegal.  
"We intent to resist through it all, in order to keep alive the first and the only Academy of Film in Albania," Cashku said in a statement before his arrest.
The police surrounded the school and were not letting anyone in. The Minister of Culture rejected the protests of the filmmaker saying that the school illegally occupied more than the space allocated by the government.
The director of the state-owned Alba-Film studios Fatmir Musaj accuses Cashku of the usurpation of state property.
The Academy has replied that they were being evicted in order to make space for the installation of a TV station. Their lawyers said the police action was illegal as it was not backed by a court order.
The scenes echoed the forced eviction of the Tema newspaper from its leased, state-owned premises on January 8