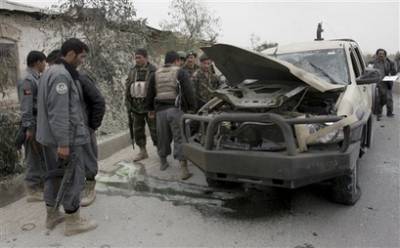 LONDON, England – Three British troops under NATO command were killed in an explosion in southern Afghanistan on Wednesday, the British Defense Ministry said.
They are among 10 international troops in Afghanistan who have died in bombings since Friday.
The three soldiers, from 1st Battalion The Rifles, died from their wounds after an "enemy explosion during an escort operation in the Gereshk district of Helmand province," the ministry said.
"Today has been incredibly sad for the whole of Task Force Helmand, and particularly for The Rifles," Cmdr.Paula Rowe, spokeswoman for Task Force Helmand, said in a statement.
"We will all feel the loss of these brave soldiers, whose role was to build the capacity of the Afghan National Army. But it is their family, friends and loved ones, as well as the men and women who served alongside them, who feel the greatest pain, and we offer them our deepest and heartfelt condolences, thoughts and prayers," Rowe said.
Four coalition members and an Afghan civilian working with the coalition were killed Tuesday in southern Afghanistan when their vehicle struck an improvised explosive device. The Taliban claimed responsibility for this attack.
On Friday, three American troops were killed by a roadside bombing followed by small arms fire during a combat reconnaissance patrol in Uruzgan province in southern Afghanistan.
Meanwhile, in the southern Afghan city of Kandahar, a civilian was killed Wednesday when a remote-controlled bomb attached to a motorbike exploded as an Afghan army convoy passed, police said. Two children and three Afghan soldiers were wounded in the blast, police said.