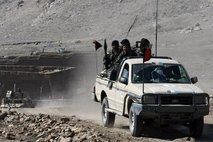 KANDAHAR, Afghanistan – A bomb exploded in Afghanistan and killed two civilians while 28 militants and two Afghan soldiers died in clashes, the authorities said
The blast and the fighting on Tuesday took place in the south of the country, a Taliban stronghold where about 17,000 US troops are expected to deploy in the coming weeks to reinforce multinational troops fighting extremists.
In Kandahar city, explosives fixed to a motorbike were detonated remotely as an Afghan army convoy passed, said the regional army commander, General Shair Mohammad Zazai.
Two civilians were killed and three wounded, while five Afghan soldiers were hurt, he told AFP.
It was not clear who was behind the attack but Taliban militants have carried out hundreds of similar bombings in an insurgency that last year reached its deadliest since the hardliners were ousted from government in 2001.
Heavy fighting erupted in the neighbouring province of Helmand late Tuesday when gunmen attacked Afghan soldiers protecting police who were destroying illegal opium crops, the provincial government said.
"Eighteen militants were killed and two Afghan army soldiers were martyred," provincial spokesman Daud Ahmadi told AFP.
Two Westerners training the counternarcotics team were also wounded in fighting, he said.
Helmand produces the bulk of Afghanistan's opium, which is used to make heroin in a drugs trade worth four billion dollars a year and one that earns Taliban insurgents millions of dollars, Afghan and US officials say.
The authorities announced separately that the US-led coalition and Afghan troops had killed 10 militants in the southern province of Uruzgan Tuesday after coming under attack while on patrol.
The forces called in air support after an initial gun battle, which killed one militant, a joint press statement said.
"Nine militants were killed and one fortified fighting position was destroyed during the strike," it said.
The information could not be independently confirmed.
There have been several heavy clashes in Afghanistan over the past few days, with insurgency-linked violence this year expected to match that of last year.