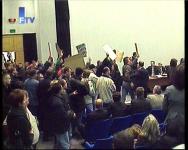 Dozens of physically handicaped and disabled people on wheelchairs and crutches broke into the Bosniak (Bosnian Muslim)-Croat Federation parliament in Sarajevo on Tuesday, protesting against belt-tightening legislation that will cut down on their social payments.
The protest underlined the worsening economic and social conditions plaguing Bosnia on the heels of the fast-approaching global recession. After years of doling out generous welfare payments, the Federation has this year seen its budget deficit widen, and a few weeks ago proposed a law that would reduce social benefits by cutting off payments for all those deemed to be less than 90 percent handiccaped.
The measures were strongly condemned by invalids associations, media and economic experts alike, while so-called civil invalids and war victims were additionally angered by the fact that the disputed law maintained much higher payments for war veterans and war invalids.
Despite the criticism, the regional parliament adopted the disputed law on Tuesday afternoon, outraging some 200 invalids gathered outside the building.
Dramatic television footage showed the protesters, some of them in wheelchairs, others hobbling along on white canes, led by helpers, storming into the parliament building. In one of the most affecting scenes, one of the demonstrators, a deaf-mute , was shown screaming at government officials and parliament deputies silently, using sign language.
Premier Nedzad Brankovic and Social Minister Perica Jelecevic had to be evacuated by police, and it
"Coup in the Federation: Invalids take over Federal Parliament, Government runs away," bellowed the front-page article on the popular Bosnian web portal, Pincom
In another act of Bosnia's growing social drama, in the northern town of Tuzla a few hundred workers of shoe factory Aida fought police on Tuesday in an attempt to enter a regional government building, where they demanded payment of their delayed salaries and social contributions.
While the other Bosnian entity, the Serb-dominated Republika Srpska, has so far been able to avoid major social tremors thanks to the privatization proceeds from the past two years, the situation in the Bosniak-Croat Federation is fast becoming dramatic.
Over the past two years all major development and privatization projects in the Federation have been blocked by political infighting, while excessive public spending crippled entity budget. Despite warnings from economists and protests from the public, federal authorities have failed to reform the economy and rein in budgets, and even increased their own salaries.
Warnings by Federation Finance Minister Vjekoslav Bevanda that the entity was facing bankruptcy, finally came through at the beginning of 2009, when Federal government realized that the entity's budget was already over 60 million Euros in deficit. With public spending still rampant, the deficit increased by 5 million euros only in January.