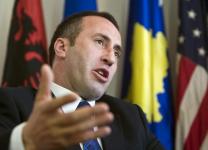 Kosovo's former Prime Minister, Ramush Haradinaj, said he was willing to be the mediator for peace talks in Uganda between the government in Kampala and the Muslim Allied Democratic Forces rebels.
The Allied Democratic Forces, ADF, said they wanted Haradinaj, a former commander of the Kosovo Liberation Army acquitted last year of war crimes charges by the International Criminal Tribunal in The Hague, because "he has been through a lot" and had experience "of rebels and difficulties.
"I have been helping them for the past six months," Haradinaj said on Tuesday. "I will be helping them as much as I can without neglecting my obligations here (in Kosovo)"
After the end of the 1998-99 conflict, Haradinaj became deputy commander of the Kosovo Protection Corps, and later founder and president of Alliance for Future of Kosovo, AAK. In 2004 he became Prime Minister but resigned after 100 days in office to surrender for trial at the war crimes tribunal in The Hague. In April 2008 he was acquitted of torture, murder, rape and deportation and returned to Kosovo to a hero's welcome.
The Uganda Muslims' rebellion began in the early 1990s and intensified between 1996 and 2001, forcing tens of thousands of people in the western Rwenzori region to flee their homes. ADF says it is fighting for equal rights for Muslims in the East African country.