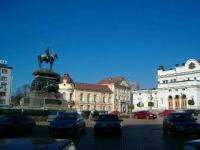 Bulgarian MPs on Wednesday passed a near-unanimous decision to to expel independent MP Vladmir Kouzovc from parliament after his conviction for sexual relations with a 13-year old boy.
Kouzov was elected to Parliament in June 2005 on the ticket of the ultra-nationalist Ataka party. In 2006, once it turned out there was an investigation pending against him, he was expelled from Ataka and his immunity as an MP was revoked.
Kouzov was initially sentenced to three years behind bars for having sexual contact with a 13-year-old boy in Sofia in 2001, but asked Bulgaria's Supreme Court to review his sentence, claiming that there had been a number of procedural breaches. 
The SCC found that there was no evidence that "the homosexual relations had had a negative effect on the physical and mental condition and on the sexual capability of the victim" and suspended the sentence.
Kouzov's clean record, education and social activism were also taken into account in the court's ruling. The court said that since the offence was committed, Kouzov had not committed any other crimes and so there was no reason to jail him.
If he commits an offence in the next five years he would be sent to jail to serve his three year sentence.
According to the Bulgarian constitution, MPs convicted of any crime must leave Parliament. The motion of Kouzov's dismissal passed with 178 votes in favour, one against and two abstentions.