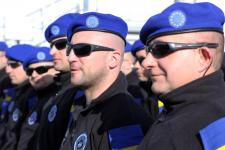 The UK government has announced plans to reduce its staff in Kosovo's EULEX mission as part of a cost-cutting drive resulting from the global financial crisis.
"We have received some signals that the UK government is planning to reduce its staff under the law and order mission in Kosovo", said Christophe Lamfalussy, spokesman of the mission.
The reduction comes as a result of the financial crisis, he said.
"We are waiting for personnel reduction from Great Britain, though we haven't any decision yet", added Lamfalussy. 
Most EULEX mission members present in Kosovo are deployed and paid by their governments. EULEX is the first international mission in Kosovo to have admitted the repercussions of the global financial crisis. Since Kosovo came under international administration after the 1998-99 conflict, Great Britain has been the greatest contributor to the KFOR peacekeeping mission in Kosovo.
Earlier this week, the Czechs who hold the rotating EU presidency conceded that the bloc is becoming more careful as a result of the financial crisis.
"During an economic crisis people become more careful", said Czech foreign minister Karel Schwarzenberg.