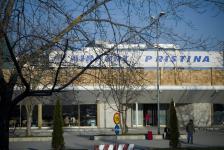 Kosovo's government met with consultants Naco Innova on Thursday to discuss plans to revamp and assist in the privatization of Pristina International Airport.
Naco Innova, a Dutch-American aviation consulting company, won the tender on January 26 and was on their first official visit to Pristina, meeting with a special governmental commission formed to monitor the airport's concession process.
Fatmir Limaj, Minister of Transport and Telecommunications, stressed the importance of a clear-cut privatization, stating that "we are very interested that this whole process be a transparent process".
He also spoke of the commission's intention to showcase Kosovo's new identity as an independent state, following its declaration of independence from Serbia last February.
"There should be distinctive and identifying signs of the new state of Kosovo. You need to take this into consideration," he said.
Ahmet Shala, Minister of Economy and Finance, said Naco Innova had been given a number of objectives, including the development of a modern airport and been briefed on the government's wishes to maintain a certain stake in the airport in order to ensure valuable investments and protect national interests.
"We have explained that retaining a piece of the shares is a possible variant we wish to have from this strategic undertaking… because it is important and essential for the government and coutrny of Kosovo", he said.
Naco Innova's previous consulting assignements in the Balkans included work on Alexander the Great airport in Skopje, and St. Apostle Paul airport in Ohrid.