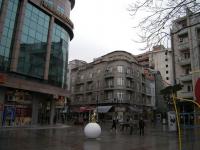 The Macedonian government generally respected the human rights of its citizens in 2008, with certain problems noted in the rule of law, and inadequate judicial and police procedures with criminal detentions, says the US State Department Country Report on Human Rights Practices.
One of the main problems noted is the "political pressure and intimidation" that "hindered the effectiveness of the judiciary", the local MIA news agency reports.
Enactment of judicial reforms aimed at ensuring independent and expedient courts continued to be delayed trough the year, the document states.
The freedom of the press in Macedonia also suffered last year due to government intervention.
"Harsh government criticism of media coverage viewed as 'anti-patriotic' negatively impacted freedom of the press", says the report.
Macedonia, a candidate for NATO and EU accession is currently undergoing a series of reforms requested by the West.
For three consecutive years, the European Commission refuses to give Macedonia the green light for the next step towards EU membership due to insufficient reforms.
Last April, NATO members agreed that the country meets the conditions for admission it to the Alliance but did not extend an invitation due to objections from Greece, which is locked with Skopje in an 18-year dispute over Macedonia's name.
Some media have complained of pressure when they report on the government's policy towards the name row. Home human rights watchdogs and recently EU officials in the country have also warned of these problems. Last month the EU ambassador Erwan Fouere said that the freedom of the press must be respected.