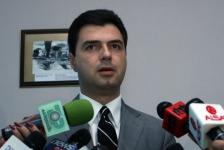 Albania's Foreign Minister Lulzim Basha appeared in front of the Supreme Court in Tirana on Friday on charges of abuse of power related to a mammoth highway project linking Albania's Adriatic coast with Kosovo.
The charges relate to the time when Basha served as Albania's Minister of Transportation and Public Works from 2005 to 2007.
Basha's lawyer sought the dismissal of the charges over a series of technicalities, arguing that his client had not been indicted properly, while prosecutors claimed that the process had been according to the law.
The court is expected to take a decision on the dismissal appeal on March 16. Outside the court house Basha called his indictment " fables from the office of the General Prosecutor."
The 61 kilometre-long Rreshen-Kalimash section of the Albanian- Kosovo highway is costing Albania €1.027 billion, according to the charges filed against Basha.
However, because the highway is not yet finished, its final cost could rise further. The Rreshen-Kalimash section is only a part of the 170 kilometre highway. Albania's government has declined to give a clear estimate of the final costs of the road.
Basha, who has been charged with abuse of power and breaking tender rules relating to the construction project and risks up to 12 years in prison, has denied any wrongdoing and says that the accusations against him are politically motivated and unpatriotic.
The prosecution says irregularities in the case has so far cost Albanian taxpayers some €230 million, an estimate based on the average price of construction material and labour costs in comparison to what Albania is paying to build the road.
The highway, which links the port of Durres with Kosovo and includes a six kilometre-long tunnel, is the country's biggest public works project in decades.
Almost 89 per cent of Albania's capital expenditures during the 2008 fiscal year have been spent for the on the highway, data published by Ministry of Finance suggests.
For the nine months ending on September 30, Albania had spent €328 million from its €373 million capital expenditures budget on the road.
About half of this sum was raised in the international market as syndicated commercial loans. Albania will need to invest another €250 million to complete the project, due to be finalised in the summer of 2009.
Prosecutor General Ina Rama probed alleged irregularities in the tender for the construction of the highway won by the American-Turkish consortium, Bechtel-Enka for more than 17 months.
The charges relate to the time when Basha was Transport Minister. Basha's immunity was lifted by parliament at the end of December last year. Apart from the Basha, the former head legal adviser of the minster, Andi Toma has been charged with abuse of power also. Toma has denied the charges against him.