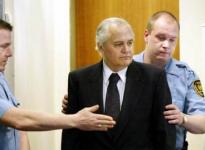 The United Nations war crimes court in The Hague found five senior Serb officials guilty on Thursday of orchestrating the murder, torture and deportation of ethnic Albanians in Kosovo, acquitting former Serbian President Milan Milutinovic.
This is the first verdict on atrocities committed by Serb forces in the 1998-99 crackdown on Albanian separatists guerrillas that drew NATO into its first humanitarian war. Despite the weighty sentences on the five accused and the implied admission of a Serbian campaign of ethnic cleansing in Kosovo, the acquittal of Milutinovic lay heavy with many in Kosovo.
Former Yugoslav deputy prime minister Nikola Sainovic, former Serbian police public security service chief Sreten Lukic and ex-Yugoslav army general Nebojsa Pavkovic each got 22 years in prison. Former Yugoslav army chief of staff and defence minister Dragoljub Ojdanic and former general Vladimir Lazarevic both got 15 years.
"The trial chamber finds you not guilty of counts one to five of the indictment," Judge Ian Bonomy said to Milutinovic of the court's ruling, and ordered him released from detention. Milutinovic was largely a figurehead during the conflict in Kosovo, with the real power in the hands of his mentor, Slobodan Milosevic, the then-president of Yugoslavia. The trial against Milosevic on the same charges was aborted when he died of a heart attack in 2006. Kosovo declared independence from Serbia in February 2008.
The six were accused of a criminal plot to drive ethnic Albanians out of Kosovo to consolidate Serb control of the province, including "the deportation and forcible transfer of several hundred thousand people, as well as the murder and persecution of thousands of Kosovo Albanians".
Watching the live transmission of the first international trial for war crimes committed against Kosovo Albanians, Kosovo's Minister of Justice, Nekibe Kelmendi, described the verdict as no more than a "symbolic conviction".
"The verdict is unjust," said Kelmendi whose own husband and two sons were executed by Serbian forces in spring 1999.
Kosovo's Deputy Prime Minister, Rame Manaj, echoed the sentiment.
"The facts presented at the Tribunal provided hard and clear evidence," said Manaj whose son went missing in the conflict.
Tome Gashi, a lawyer and adviser to Kosovo's Prime Minister, Hashim Thaci, said the decision to free Milutinovic suggested that the Tribunal "wanted to create a kind of balance after previously acquitting some Kosovo Liberation Army commanders".
"According to the constitution of Serbia at the time, Milutinovic was supreme commander of the armed forces," Gashi said. " If the others were sentenced, then Milutinovic, as their supreme commander, should have been sentenced as well."
Hysni Berisha, speaking for a family 40 of whose members were murdered on March 26, 1999, said he was deeply shocked.
"This is not just," he said, by telephone commenting on Milutinovic's acquittal. "Releasing the second architect of crimes against Kosovo Albanians is just absurd."
The prosecution called 118 witnesses in a marathon trial that started in July 2006 and included testimony speaking of Serb forces shelling towns and villages and murdering civilians as some 800,000 people were driven from their homes and forced to flee in bedraggled convoys that sought refuge in Macedonia and Albania for weeks.
Prosecutors had requested sentences of between 20 years and life imprisonment for all defendants while defense lawyers called for their acquittal.
Branko Ruzic, an MP from Serbia's ruling Socialist Party, that led Serbia during the war, accused the Hague court of being unjust and biased against Serbs.
"There's no logic in issuing such draconian punishments to people who were only defending the state's territorial integrity, according to the Constitution," Ruzic said.