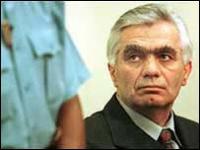 The Appellate Chamber of the Hague Tribunal is due to pronounce a second-instance verdict in the case of Momcilo Krajisnik, a former Republika Srpska senior official, in mid March.
In September 2006 Krajisnik, former President of the Republika Srpska Assembly, was sentenced to 27 years' imprisonment for crimes against humanity, and persecution, extermination, murder and deportation of non-Serbs in Bosnia and Herzegovina.
He was sentenced for participation in a joint criminal enterprise, in collaboration with other Bosnian Serb leaders but acquitted of charges of genocide and complicity in genocide.
All parties, including the indictee himself, appealed the first-instance verdict. Among other things, the Prosecution appealed due to what it described as an "inadequately low sentence".
Nearly two and a half years after the pronouncement of the first-instance verdict, the Appellate Chamber of the International Criminal Tribunal for the former Yugoslavia, ICTY, has announced that it will pronounce a second-instance verdict on March 17.
The indictee was allowed to examine Radovan Karadzic as a witness during the course of the appellate process. The former President of Republika Srpska is at The Hague awaiting the start of his trial for war crimes and genocide.
Karadzic, who was examined on November 5, 2008, denied that Krajisnik was member of the wartime Presidency of Republika Srpska, his close associate and the "second highest ranking official in Republika Srpska".
He also denied the fact, previously determined by the first-instance Chamber, that Krajisnik had a role in the establishment of crisis committees, war commissions, regional and municipal structures in the Serbian Democratic Party, or the Territorial Defence.