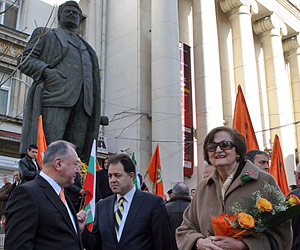 Bulgaria marked Sunday, March 1, 130 years since the birth of Aleksandar Stamboliyski – a prominent Bulgarian politician, Prime Minister (1919-1923), and leader of the Bulgarian Agrarian National Union.
The anniversary was commemorated with a solemn ceremony and a celebration before Stamboliyski's monument in downtown Sofia, which were organized by the "Aleksandar Stamboliyski" Agrarian Union party.
A special exhibition dedicated to "The Life and Work of Aleksandar Stamboliyski" was also opened as part of the commemoration program. 
Stamboliyski was born on March 1, 1879, in the village of Slavovitsa in Southern Bulgaria. In 1899, he was among the founders of the Bulgarian Agrarian Union in the city of Pleven. After that Stamboliyski studied philosophy in Halle and agronomy in Munich, Germany, but got ill with tuberculosis, and returned to Bulgaria.
As one of the leaders of the Bulgarian Agrarian Union, he opposed Bulgaria's participation in the Balkan Wars of 1912-13, and in World War I in 1915-1918, and was sentenced life imprisonment in 1915 over seditious activities.
After Bulgaria capitulated together with the other Central Powers in World War I, Bulgaria's Tsar Ferdinand abdicated in favor of his son, Tsar Boris III.
In September 1918, Stamboliyski was released from prison together with other leftist politicians, and was sent by the monarchy to calm down the Soldiers' Rebellion in Southwest Bulgaria. Instead of doing that, however, Stamboliyski headed the rebellion and was proclaimed Chairman of the so called "Radomir Republic". After the rebellion was defeated, he had to hide for several months until he was pardoned.
Under his leadership, Bulgaria started to recover from the economic devastation and the catastrophe of its national idea that it suffered with the loss of World War I.
In January 1919, Stamboliyski joins a coalition government, and on October 14, 1919, was appointed Prime Minister. He is the person who signs Bulgaria's peace treaty with the Entente, the Treaty of Neuilly-sur-Seine, which is extremely harsh on Bulgaria, breaking his pen after that.
In 1920-1923, Stamboliyski was Bulgaria's Prime Minister. Its Agrarian Union carried out controversial reforms favoring the village population of the country, and his rule is often described as a rural dictatorship.
While he was extremely popular with the peasants, Stamboliyski antagonized the town middle class, the military, and the Bulgarian revolutionaries from Macedonia and Thrace. The so called "Orange Guard" was a main instrument of his repressions.
Internationally, Stamboliyski tried to establish relations with similar parties and movements in Eastern Europe and to start a "Green (Agrarian) International".
Stamboliyski was ousted from power in a military coup d'etat on June 9, 1923. He led a counter-coup attempt but was then captured, severely tortured, and killed.
Stamboliyski is remembered in Bulgarian history as a strong leader who led the nation during some of its hardest days but his dictatorship methods and repressions make him a controversial figure.