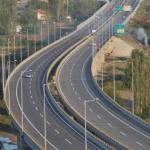 Macedonia plans to invest an unprecedented 8 billion euros on strategic infrastructure projects stimulate long-term development over the next seven years, the government said on Sunday, also mentioning plans for a nuclear power plant.
The money to improve energy capacities, transport, environmental protection, education and culture will partially come from the budget, partly from debt and partly from concessions, PM Nikola Gruevski said on a press conference.
"It is a strategic plan that is rather ambitious, and I would be satisfied if we manage to realize two-thirds of it, whereas more than this would be considered an exceptional success", Gruevski said.
The plan foresees commissioning a study for the construction of a nuclear power plant that would curb Macedonia's energy shortages.
Starting from this year until 2016, the government envisages some 3.85 billion euro investments in the energy sector alone. These funds would be invested in 30 strategic projects, such as mines, long-distance lines, renewable energy sources.
Funds will also be invested in road infrastructure, aimed at reconstructing old local and regional roads, but also build new ones.
The investment program also envisages construction of a new IT university in Ohrid, a new student dormitory in Skopje, as well as 93 new schools throughout Macedonia. The state also pledged to build 1,100 new social housing units by 2012.
Gruevski said that these ambitious plans would help the local economy cope with the global financial crisis and on the long run significantly raise its competitiveness. The large infrastructure projects will be particularly favorable for construction companies, he said.
Macedonia had already envisaged a record sum of its budget for capital investments this year. Roughly 500 million euros were earmarked for such expenditures out of the 2009 budget of 2.5 billion euros.