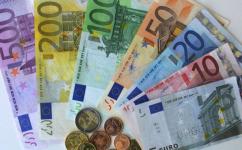 Economists warn that Kosovo has accumulated 475 million euros that is sitting untouched and idle in the banks due to mismanagement of public money, while the Ministry of Economy and Finance says that amount is 'funds for specific reasons' and should not be spent unreasonably.
According to Shpend Ahmeti, from the Institute for Advanced Studies, GAP, all this money could be used if there was a better budget plan.
"Capital investments have not been realized due to a weak planning of projects and lack of priorities", said Ahmeti. 
For him, this amount could be called a state reserve in cash, as a result of not having spent the income for one year.
However, Kosovo's vice minister of Economy and Finance, Bedri Hamza, said that the money deposited in the central bank cannot be called a surplus. The money is income transferred from year to year, reserve funds for debt servicing, loans for electricity utility KEK, financial reserves of the budget and reserves for status implementation.
Until the end of September 2008, only 536.92 million euros had been spent from Kosovo's budget, which means that less than have of the funds had been allocated in the first three quarters.