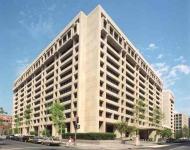 Romanian authorities have started negotiations with the International Monetary Fund in Washington over a loan aimed at protecting Romania's slowing economy from the global financial crisis, local news agency NewsIn reports.
Economic analysts have already warned Romania should be the next east European country after Hungary and Ukraine to ask for international assistance programmes. 
They say Romania requires funding totalling between 5 and 9 billion euros to accommodate both short-term debt repayments and public spending. The Balkan country's economy is expected to slow sharply to less than 2 percent from last year's growth rates of 8-9 percent.
In January a team of experts from the International Monetary Fund made a regular visit to Romania to assess macroeconomic developments and the policy plans of the centre-left governing coalition. The IMF said at the time that a rescue package is not on the agenda of its mission.