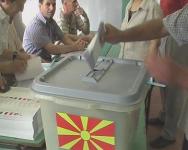 The campaign for Macedonia's March 22 presidential and local polls kicked off on Sunday, under the eye of the West which views the election as a test of the country's democratic credentials .
Among the seven men running for President, Georgi Ivanov from the main ruling VMRO-DPMNE party and Ljubomir Frckoski from the main opposition Social Democrats are shown to be the favourites by opinion polls.
The independent candidate Ljube Boskoski, Nano Ruzin from the opposition Liberal Democrats, Agron Buxhaku from the rulling Albanian, Democratic Union for Integration, DUI, Miruse Hoxha from the opposition Albanian Democratic Party of Albanians, DPA and Imer Selmani from the newly formed New Democracy party are also running.
The candidates have 20 days to present their program to almost 1.8 million people who are eligible to vote.
The candidate who wins an absolute majority of votes in the first round will be elected president. If no one does, a second round will be held after a fortnight with just the top two candidates. The one who receives most votes at a turnout of at least 40 percent wins.
On the simultaneous local polls the people can choose from a field of 370 candidates for mayors and about 700 lists of candidates for municipal councilors in 84 municipalities and the city of Skopje.
The West will closely monitor the polls, hoping for improvements since the general election last June was marred by violence and election fraud in the Albanian populated parts of the country.
This resulted in harsh criticism from EU and NATO, both alliances that Macedonia aims to join. If thesse polls pass muster the country hope to receive a starting date for its EU accession talks this fall.
The campaign will run until March 20 at midnight, followed by one day of election silence. On election day, the polls will be open from 0700 to 1900..