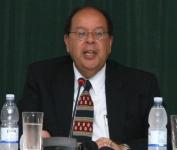 The United States Ambassador to Tirana, John L. Withers, expressed his concern on Monday over the constant political attacks by the Albanian political class against the country's justice system.
An annual human rights report released last week by the US State department panned the Albanian government on the constant attacks on general prosecutor Ina Rama, due to high level investigations, which have resulted in charges of abuse od power against two ministers.
"I know that it is extremely difficult for people to take a courageous stand in a political environment which puts pressure on them, when statements are made in the newspapers and on television that bring you under criticism, but I admire the many examples that I have seen of judges who do stand up, whose allegiance is to the law, and who ultimately find respect for the law greater than fear of political manoeuvres," Withers said during a judicial conference.
"Albania must commit to protecting the independence of the judiciary to ensure its democratic progress forward and any threat to this independence is a clear step backward," Withers added.
The rights report also criticized a lustration law on former communist officials, passed by the centre-right government of Premier Sali Berisha, as drafted with "vague wording giving the government wide discretion in determining what "political processes" means, thereby allowing it considerable latitude in determining if an official should be dismissed from duty."
Berisha has denied the criticism and said the report was the best assessment Albania has ever received, accusing journalists of "fabricating" the negative reviews.