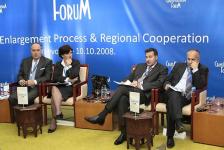 The director of the Development Bank in the Bosniak (Bosnian Muslim)-Croat Federation has verbally assaulted members of the financial police and blocked their investigation into his own alleged misuse of power.
In what threatens to be one of the biggest corruption scandals in the Federation in the past year, the chief inspector of the Federal Finance Police, Zufer Dervisevic, said that the financial police were forced to stop their weeks old investigation into the work of the government-owned Federal Development Bank after "verbal assaults and obstructions" from the bank's director, Ramiz Dzaferovic.
"Unfortunately I have to report that the finance police and its investigators were forced to leave the bank premises," chief inspector Dervisevic said, adding that in addition to verbal assaults, Dzaferovic refused to provide any further documentation into the work of his bank, media reported on Wednesday.
In a terse statement, the Development Bank dismissed this claim but provided no further details of the investigation.
Following the incident, the main opposition SDP party demanded an extraordinary session of the Federal Parliament to discuss the situation in the Development Bank and launch a procedure for Dzaferovic's replacement.
In its press statement the SDP said that the initial investigation by the financial police showed that 33 out of 55 million euros of soft loans placed by the Development Bank over the past three years have been given to companies which were using the services of the private auditing company owned by the bank's director, Dzaferovic. Dzaferovic has reportedly earned at least 1.5 million Euros from these contracts.
"According to even the preliminary information, it is becoming obvious that here we are talking about flagrant violations of law, conflict of interest and misuse of position," the SDP said in its statement.
The case of the Federal Development Bank has been drawing increasing public attention over the past few weeks.
Yet the work of the Development Bank was marred with incidents from the very beginning as opposition parties, independent media and civil society had complained that the appointment of the bank's director was illegal as it was done by the bank's managing board, which was also set up in violation of existing laws.
The case underlined concerns outlined by the EU which sees widespread corruption as one of the main problems in the country. In its latest Corruption Perceptions Index global anti-corruption watchdog, Transparency International, also warned that Bosnia is one of the worst countries in the region.