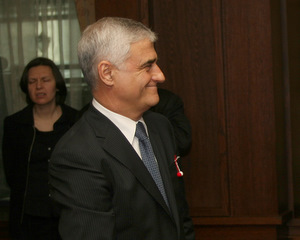 Bulgaria expects a new crisis with the supplies of Russian natural gas, and a gas restriction plan is set to be put forward in a few hours, the Energy Minister Petar Dimitrov announced, cited by Darik Radio Wednesday.
"Bulgaria is aware, and prepared for it", Dimitrov added explaining his concerns over a possible repeat of the Russia-Ukraine gas argument, which cut off Bulgaria's Russian gas supplies for more than two weeks in January. 
The Ukraine has a deadline until March 7 to pay for the February gas use. Minister Dimitrov explained that the filling of the Bulgaria's Chiren gas storage was in progress despite the fact that it is more economically efficient to fill the facility up during the summer.
It is possible that the gas supplies for the Ukraine decrease, which will not affect the transit of natural gas, Petar Dimitrov pointed out. Still, he emphasized that this was how the previous January gas crisis started.
The purpose of limiting the gas supplies on the Bulgarian market is to show how much gas will be available in case of a new crisis. Petar Dimitrov added that, if a new crisis occurred, central heating companies would be powered by black oil.