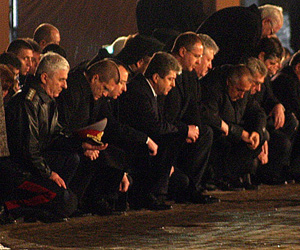 The Russian-Turkish Liberation War is one of the most fair and just wars of the 19th century, Bulgaria's President Georgi Parvanov told the crowd gathered Tuesday evening at the "Narodno Subranie" (National Assembly) square in the capital Sofia.
Parvanov, who is also Supreme Commander-in-Chief of the Bulgarian Armed Forces, took the salute of the representative units of the Bulgarian Army,
"The decisive battle to determine Bulgaria's destiny led to the historic Peace Treaty of San Stefano. We have all reasons to reconfirm today the assessment of the War at the time, as one of the most fair and just wars of the 19th century.
A War that was not led by the force of decrees, but a War that it is embedded in people's minds as the Liberation War. A War ending with the deliverance of the Bulgarian people, suffering for five centuries under the Ottoman yoke.
Because of that, our first words when we celebrate, are addressed to the Russian people and to the soldiers from other countries, who participated in the battles and died along the long route leading to the final victory. We are deeply grateful to all those, who joined the cause of the Bulgarian people," Parvanov said in his speech.
The ceremony began with the solemn meeting of the sacred flags of the Bulgarian Military Glory, including a copy of the legendary Samara flag. The ceremony was followed by a fireworks display.
About 2,000 citizens, some waiving Bulgarian flags, attended the salute of the representative units, despite the rain.
Participants in the official ceremony included Bulgaria's Prime Minister (PM) Sergey Stanishev, the Speaker of the Parliament, Georgi Pirinski, the Former Bulgarian Tsar and PM, leader of the National Movement for Stability and Progress Party, Simeon Saxe-Coburg, the Mayor of Sofia, Boyko Borisov, Ambassadors and other officials..