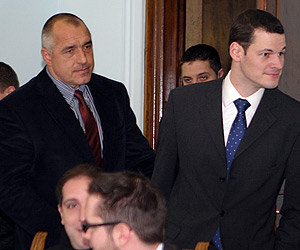 The replacement of the waste disposals in Sofia should be completed by the end of the day Tuesday, Sofia's Mayor, Boyko Borisov, said during a talk with Pierre Maudet, President of the Urban Environment and Security Department of the Geneva, Switzerland, Town Hall, Darik radio informs.
According to another Bulgarian information agency, BGNES, Maudet was the future Mayor of Geneva, scheduled to take the post in May, but the official site of the Geneva Town Hall lists him as the President of the Urban Environment and Security Department.
Borisov discussed with Maudet the problem with Sofia's waste, saying that he was making all possible efforts to resolve the issue, but the "Novera" company, which is the concessionaire in charge of cleaning the city, was creating obstacles. According to Borisov, "Novera" failed to provide a schedule about the replacement of the waste disposals, thus interfering with the work of the municipal employees.
"20,000 waste disposals cannot magically disappear," the Sofia Mayor said.
Borisov stated "Novera" also did not properly remove the old disposals, creating further obstacles, but vowed to provide new ones by all possible means.
The Mayor told Maudet that not everything that was written in the media regarding the city's waste problem was true since the majority of the media outlets in Bulgaria were bought by the ethnic Turkish Movement for Rights and Freedoms Party (DPS) and its leader, Ahmed Dogan, and were manipulated to tell lies. Borisov appealed to the State Agency for National Security (DANS) and the Prosecutor's Office to investigate the source of money used by DPS to "shop" for media publications.
The Sofia Mayor further announced that he had sent an official invitation to Bulgaria's Prime Minister Sergey Stanishev, inviting him to participate in the beginning of April, in the ground breaking ceremony of Sofia's new recycling facility. Borisov said that the municipality was going to receive European funds for the facility's construction and was currently conducting negotiations with the European Investment Bank for Development to secure additional resources.
The Swiss official praised Borisov's efforts, adding that his city also had waste problems when they changed the concessionaire. According to Maudet, the numerous private interests interfered with the cleaning of the Bulgarian capital along with the obsolete contract, dating from 10-15 years ago, which did not allow any flexibility, crucial for the removal and the transportation of the waste.
"We hope you will remain at your post as Mayor of Sofia, because we enjoy our mutually productive relations and work," Maudet told Borisov.