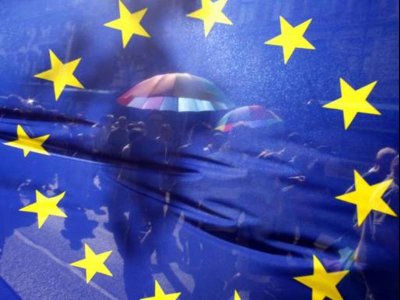 EU member Slovenia has blocked 12 chapters, or one-third, of Croatia`s entry negotiations.
Croatia will accept the European Union's offer to mediate in its border row with Slovenia, but it remains unclear if this will be enough to remove the Slovenian veto that has blocked Zagreb's EU accession talks this year.
EU member Slovenia has blocked 12 chapters, or one-third, of Croatia's entry negotiations. It said Zagreb submitted documents that were prejudicial to the border dispute, which dates back to the 1991 break-up of Yugoslavia.
Squeezed between Italy and Croatia, Slovenia wants direct access to international waters in the northern Adriatic. This would force Croatia to cede part of the sea it considers its own. Four small villages in the northern Istrian peninsula are also disputed.
Unless the veto is lifted soon, Croatia will not be able to complete the talks this year, as planned, and join in 2011.
The European Commission, keen to keep the talks on track, proposed in January that Nobel Peace Prize winner Martti Ahtisaari, a former Finnish president, mediate in the dispute.
It did not explain what exactly this would involve. Slovenia accepted the proposal while Zagreb will reply next week.
"The mediation will most certainly not be rejected, but we still do not know how the response will be formulated," a senior government source told Reuters on Friday.
Prime Minister Ivo Sanader consulted all political parties this week and set up a working group that will draft the response by next Tuesday, but officials said it was not likely to give completely free rein to the mediators.
"We need to know the mandate of the mediation, whether it would impose a political solution. And we still don't know if accepting the mediation would automatically lead to Slovenia lifting the veto," the source said.
"We would still prefer this ruled by international law, at an international court — a procedure the EU has incorporated in its own documents," he said.
EU's Enlargement Commissioner Olli Rehn said in Slovenia on Thursday he expected a positive response, but added that no country should impose "impossible conditions".
He referred to rumours that Croatia could accept the mediation only if it led to settling the dispute at the International Court of Justice in The Hague, an option Zagreb has wanted from the start.
Political analyst Davor Gjenero said Croatia would grudgingly accept the mediation because it had no choice.
"Croatia cannot afford to be capricious now. The Slovenian veto has been unjust but it needs to be overcome. And if mediation can achieve this, we need to accept it," he said.