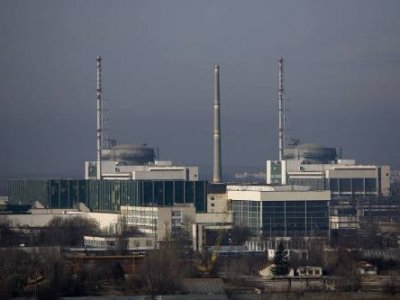 Parliament gave the Socialist-led government a mandate in January to seek a permission from the EU to reopen the reactors.
Bulgaria has backed down on plans to restart two Soviet-era nuclear reactors and will now focus on lobbying for more European Union compensation for the shut units, officials said on Friday.
Parliament gave the Socialist-led government a mandate in January to seek a permission from the EU to reopen the reactors to cover losses caused by cuts in Russian gas supplies during its contract dispute with Ukraine and the economic crisis.
But Brussels has indicated that any attempt to restart them would be blocked, not least because of opposition from traditionally anti-nuclear member states such as Austria.
Prime Minister Sergei Stanishev met European Energy Commissioner Andris Piebalgs in Brussels on Thursday to demand more EU money to compensate Bulgaria for losses caused by the units' closure, the government said in a statement.
"We will hardly have another (energy) crisis by the end of the year that will provoke a reopening of the reactors … And all the signals (from Brussels) show that the possibility for a restart is very tiny," a government spokesman said.
Another government official, who declined to be identified, told Reuters that Sofia actually never intended to restart the two 400 megawatt reactors, shut in late 2006 to win EU entry.
"It was simply a move to try to demand more compensation," the official said.
Some, including the NMSP centre-right junior coalition partner, have said the move was a ploy by the Socialists to stoke a nationally sensitive subject and revive support ahead of parliamentary elections likely in June or July.
Opinion polls show more than 70 percent of Bulgarians want the government to resign. The country has been hit by a wave of protests from people fed up with life in the EU's poorest and most corrupt nation.
However, more than 70 percent of 7.6 million Bulgarians view the Kozloduy plant — which houses two reactor units, after two were shut in 2002, and two were closed down as a condition of joining the EU — as a symbol of national pride.
The government has repeatedly said the reactors were unfairly deemed dangerous by the EU and in January called on Brussels to compensate Bulgaria by allowing a restart.
On Thursday, Stanishev demanded Brussels pay more compensation for all four shut reactors at Kozloduy until 2013, on top of 550 million euros already committed, the government press office said, without giving other details.
Bulgaria was one of the European countries worst hit by the price row between Russia and transit country Ukraine, which left thousands of Bulgarians without power and shut factories.