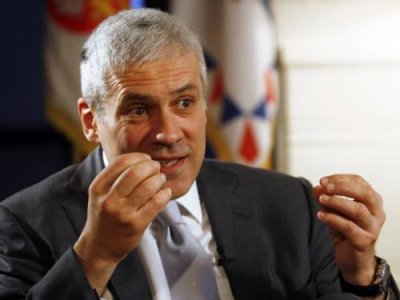 Serbia continues to gather fresh intelligence on its main war crimes fugitive Ratko Mladic and will capture him, President Boris Tadic said on Thursday.
"Every day we receive various information about Ratko Mladic and once we gather enough information we will arrest him," Tadic told reporters. "Serbia is absolutely determined to deal with every sort of crime including war crimes."
The International War Crimes Tribunal in The Hague has accused Mladic of genocide in the 1995 Srebrenica massacre of 8,000 Bosnian Muslims and the siege of Sarajevo in which thousands were killed.
His capture is a precondition for further integration with the European Union which Serbia wants to join.
"In the past, there were cases when politicians were harbouring some people, but not now," Tadic said. "Serbia has declared war on crime."
The Serbian leader earlier pledged the "most comprehensive and complex fight" against organised crime in a decade and urged other states from the region and the EU to back these efforts.
Smuggling of guns, narcotics, sex slaves and migrants was rampant in the aftermath of a decade of Balkan wars sparked by the breakup of the Yugoslav federation.
Addressing a conference of interior ministers from southeast Europe and three EU members, including current EU president the Czech Republic, Tadic said orchestrated efforts were needed to combat organised crime and enhance border security "or the crime will move to another country."
"As the Serbian president, I expect that from our neighbours. But that struggle would be impossible without the backing of the EU where we all want to end up one day," he said.