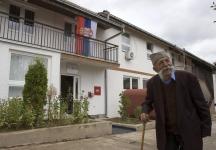 At least eight police officers and several people have been hurt in clashes between Kosovo Police and ethnic Serbs in eastern Kosovo during a protest against electricity cuts.
Regional spokesman for the Kosovo Police Ismet Hashani told Balkan Insight that police confronted some 350 protesters in the central Kosovo Serb enclave of Silovo on Sunday, where demonstrators had rallied for a third day against power cuts.
"There are at least eight police officers injured from the clashes with the protesters. The Police arrested two people who were arrested and immediately released," Hashani said, and confirmed that the Police had resorted to using handheld pepper spray to hold back some of the protesters.
Belgrade's B92 network reported the rally was led by women and children, and soon ended after being dispersed by the police.
The protests had been organised by Kosovo Serbs in four different locations over the past three days over cuts to the local electricity supply. The protests are against cuts to the local power supply due to unpaid bills that date back to 1999, according to the company in charge of Kosovo's electricity network, KEK.
Kosovo Serbs have in the meantime asked the government in Belgrade to start negotiating with the relevant authorities in Kosovo over who has jurisdiction in the dispute.
Kosovo declared independence from Serbia on February 17, 2008. So far it has been recognised by more than 50 countries worldwide, including most European Union and NATO member states.
Serbia, backed by top ally Russia, strongly opposes the move.
The Serb minority in Kosovo lives in northern areas where they make up a majority and also dozens of small enclaves which dot the rest of Kosovo.
The power cuts, initially caused by failures in the grid which KEK refuses to repair, have also caused water shortages and there has also been disruption to schools and local health centres.