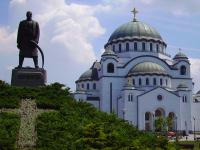 Serbia's government will in the next few days attempt to reach a consensus among different opinions on the controversial anti-discrimination law whose adoption is a requirement for the country to get onto the European Union's so-called "Schengen white list".
The B92 website reports that if a consensus is not reached during that time period, the proposed law will be returned to parliament unchanged. 
The deputy prime minister Bozidar Djelic said that important institutions were included in the debate on the law. "I'll give the example of what we heard in the government on Thursday, and that is to try, in the next few days, to establish a complete consensus on this issue," said Djelic.
The Serbian Government decided yesterday to pull the anti-discrimination law from parliamentary procedure, because the largest churches in Serbia such as the Serbian Orthodox Church, Catholic Church, Evangelistic Church and Islamic Community, objected to certain elements of it.
The Holy Sinod of the Serbian Orthodox Church confirmed that, with the support of the archbishop of the Belgrade Roman Catholic Church, the Islamic Community of Serbia, the Evangelical Church and other religious societies had sent a letter with remarks on the proposed law to the speaker the Serbian parliament.
These churches do not agree with two aspect of the law: the one that forbids discrimination based on a religious views and the one considering sexual orientation.
The daily newspaper Blic writes that withdrawing the law was directly influenced by the Bishop of Backa, Irinej Bulovic and that the law was pulled during a government telephone session, a day before it was due to go before parliament.