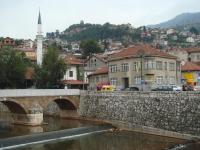 Bosnia will use funds gained from its portion of the property of the Former Yugoslavia – amounting to some 90 million Euros – to fill depleted budgets and mount a fight against the worsening economic and social crisis.
Economic experts over the weekend welcomed the decision of Bosnia's state Fiscal Council, which on Friday authorized Bosnia's Central Bank to sell the remaining assets – including gold an bonds – that the country received after the property belonging to the former Yugoslavia was divided between the new states that made up the now deceased country.
These resources will be divided between the two Bosnian entities, with 65 per cent going to the Bosniak (Bosnian Muslim)-Croat Federation and 35 per cent to the Serb-dominated Republika Srpska.
The decision came only a day after country's Council of Ministers adopted a 16-point action plan, aimed at boosting confidence in the financial system. The plan envisages a further increase in the state guarantee on deposits, measures designed increase liquidity of commercial banks, as well as new laws on excise duties which should provide additional funds for the budgets.
Over the past few months Bosnia and Herzegovina has felt the brunt of the global recession, yet due to its complex administration and poor statistics its extent is still not fully known. In addition, economic experts and analysts are warning that even with the recently adopted action plan and sales of funds, Bosnian state and entity governments are still not doing nearly enough to mitigate the effects of the fast-approaching crisis.
Due to reduced demand and canceled contracts, local companies have been forced to shed over 13,000 jobs. Some 8,000 people in the Federation and 5,000 people in Republika Srpska have registered at employment bureaus since December. In addition, over 2,700 Bosnians who worked abroad and were sending remittances to their families, have also been laid off and and have been forced to return to Bosnia and register at employment bureaus.
At the same time entity governments – especially in the Federation – are facing increased social unrest. Depleted budgets are unable to cover the costs of the various social programs, and pensions and social security payments are being delayed. Bosnia's Indirect Taxation Administration registered an almost 20 per cent drop in the collection of Value Added Tax in February 2009, compared to the same period in 2008.
Bosnia's main humanitarian organisations say that the number of residents who require assistance from soup kitchens has almost doubled in the last three months. Adding to the fast-growing public concerns over poverty, are reports that a married couple and a professional soldier committed suicide in the past week because of what appeared to be their perilous financial situation.