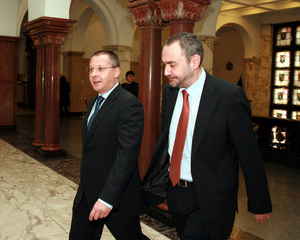 Bulgaria's Prime Minister Sergey Stanishev will hold a working meeting Monday to discuss a supplementary plan for judiciary reforms, combat against corruption and organized crime.
The meeting will focus on the measures and policies to be taken by the government to supplement its action plan and will be attended by ministers, MPs, head of agencies and representatives of the judicial power.
Upon his return from Brussels at the end of last week Prime Minister Sergey Stanishev said that European Commission President Jose Manuel Barroso has voiced support for the reforms in the judicial system that aim to bring Bulgaria up to the highest standards in Europe.
Stanishev stressed that he has presented a proposal for strengthening the cooperation between Sofia and Brussels for better results in the justice and home affairs area and more transparency in the management of public procurements and EU funds.