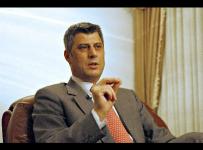 Kosovo's Prime Minister Hashim Thaci has invited Serbia's President Boris Tadic to meet in Pristina to discuss bilateral cooperation between the two states.
"You know that Belgrade wants handcuffs and keys for me every day," he told media in the Serb-populated town of Cagllavica on Sunday, saying instead that he holds out "an invitation for President Tadic that is in place of handcuffs and keys, to come to my office for a handshake".
He said that a meeting "is the best and most fair decision" Tadic can make both to encourage peace and stability in the region and for the Serbian population of Kosovo. However, he stressed that Tadic should visit Kosovo's institutions.
Serbia has vowed to never recognise Kosovo, which declared independence in February 2008, and insists that the former province is still a part of its territory. Direct talks with Serb and Kosovo leaders have therefore never taken place.
The United Nations mission in Kosovo, UNMIK, has worked as mediator between the two countries since the end of the 1998-99 conflict. Last month, UNMIK invited both parties to meet and discuss issues of cultural heritage, a call that was ignored by both Belgrade and Pristina.