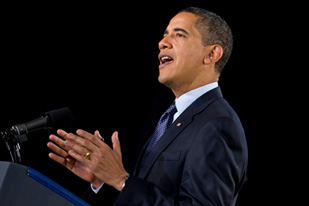 Barack Obama has hinted that the US could talk to moderate elements of the Taliban as part of its strategy in Afghanistan.
The US president's words come ahead of a visit on Monday by Joe Biden, the US vice president, to Europe for consultations with America's Nato allies on the situation in Afghanistan.
Obama has initiated a policy review on the war in Afghanistan and officials say Biden's high-profile visit is a sign of how seriously the administration is taking that review.
New plans for the US strategy in Afghanistan include the possibility of talking to elements within the Taliban.
In an interview with The New York Times newspaper, published on its website on Saturday, Obama highlighted the success of the US strategy of bringing some Sunni fighters in Iraq to the negotiating table and away from Al-Qaeda.Obama said that "there may be some comparable opportunities in Afghanistan and the Pakistani region".
The idea of co-operation with some in the Taliban has been talked about for many months by US military commanders, including General David Petraeus, head of US Central Command.
'Complex' situation
"If you talk to General Petraeus, I think he would argue that part of the success in Iraq involved reaching out to people that we would consider to be Islamic fundamentalists, but who were willing to work with us," Obama said.
But he also warned that the situation in Afghanistan "is, if anything, more complex".
US-led forces ousted the Taliban in Afghanistan shortly after the September 11, 2001 attacks on the US, but fighters have re-grouped in recent years and are waging a growing insurgency.
Shortly after taking office in January, Obama launched a review of US policy toward Afghanistan and Pakistan.
Obama had suggested before becoming president that he was open to talks with more moderate Taliban leaders.
'Path of peace'
Hamid Karzai, Afghanistan's president, welcomed Obama's comments.
"Yesterday, Mr Obama accepted and approved the path of peace and talks with those Afghan Taliban who he called moderates," Karzai said during a function in Kabul to mark International Women's Day.
Ahmed Shah Ahmedzai, a former prime minister of Afghanistan, told Al Jazeera that any move to negotiate with the Taliban would be "very appreciated" by the Afghan people.
"The Taliban want to negotiate and tell the Americans and international troops to go out. Through this negotiation, a timetable will be chosen and the other issues regarding foreign troops being in Afghanistan will be discussed and this is the beginning to solve the crisis," he said.
"War is not the solution in Afghanistan, the only solution is to start the peace proceedings."
Obama has already ordered the deployment of 17,000 additional troops to Afghanistan, saying they are needed to stabilise a deteriorating security situation.
Part of the troops' role will be to help boost security during Afghan presidential elections now set to take place in August.
Nato visit
Securing greater commitment from Nato allies appears to also be part of the new strategy.
During his trip to Brussels, Biden will hold consultations with the North Atlantic Council, the political and decision-making body of the alliance's 26 member states, and Jaap de Hoop Scheffer, the Nato secretary general.
"It's just an indication of the seriousness of the situation in Afghanistan, but I think it's also a recognition of the seriousness with which we take this," an unnamed senior Obama administration official was quoted by the AFP news agency as saying."This is not just lip service, the idea of consultation, we mean it, and in return we want concrete ideas and concrete assistance."
Some major Nato partners have made it clear that they are not in a position to send more soldiers into Afghanistan.
As a result, US officials have also stressed the need to boost political and development components of the Afghan mission.
Iranian support
On Saturday, Iran indicated that it was willing to consider taking part in a meeting with the US to look at finding a solution for stability in neighbouring Afghanistan.
"If America and European countries and others need to use Iran, they should give us [the invitation]," Gholam-Hossein Elham, an Iranian government spokesman, said in a news conference.
Hillary Clinton, the US secretary of state, proposed a high level international conference on Afghanistan during a Nato gathering earlier last week and said that a meeting should take place before the end of the month.
Elham said that his country's interest in attending any conference would be "to help Afghanistan".
"For us, Afghanistan is very important. Afghanistan's security is our security, Afghanistan's progress is our progress and Afghanistan's stability is ours," Elham said.
Iran would be invited as a neighbour of Afghanistan, Clinton said.