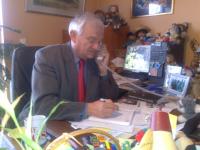 Bosnia's Minister of Security, Tarik Sadovic, has warned the Serbian Interior Minister Ivica Dacic, that "good neighborly relations" between the two countries could "be jeopardized" if Serbia insists on prosecuting 19 Bosnian officials charged for war crimes against the Yugoslav Army in 1992.
"I have asked that Dacic, in his capacity as Deputy Premier, uses his influence so that this case is transferred to the institutions of Bosnia and Herzegovina," local media reported over the weekend, quoting Sadovic.
Sadovic stressed that relations between the two countries could "escalate" if Serbia insists on probing 19 Bosnian officials for alleged war crimes committed in 1992.
Last week, Serbia launched an investigation and issued arrest warrants for 19 people who were charged with war crimes against Yugoslav Army soldiers who were trying to pull out of Sarajevo in the first weeks of the 1992-95 Bosnia war.
The group of indicted officials includes most of Bosnia's political and military leaders from that time, including seven Bosniak (Bosnian Muslim), Croat and Serb members of Bosnia's presidency.
Sarajevo media, quoting sources close to the Serbian government, reported over the weekend that Serbia is also preparing additional indictments against other Bosnian officials, including the current Bosniak member of Bosnia's tripartite presidency, Haris Silajdzic.
The move has triggered strong reactions in Bosnia, where most local leaders see this as a provocation from Serbia, which is still harboring Ratko Mladic and other Bosnian Serbs who committed war crimes including genocide against non-Serbs during the war. Others noted that this case only confirms Serbia's involvement in the war in Bosnia.
Retired General Jovan Divjak, an ethnic Bosnian Serb who was acting deputy commander of the predominately Bosniak Bosnian Army during the war and who is also included in the list, told Balkan Insight that he was not overly concerned over Serbia's charges.
Divjak, who was overseeing the pullout of Yugoslav Army soldiers at the time of the attack in the Dobrovoljacka street in downtown Sarajevo in May 1992, said that the figures of casualties and captured soldiers, mentioned by Serbian authorities, were completely wrong.
While the Serbian indictment claims that 42 Yugoslav army soldiers were killed, 73 injured and 215 captured during the attack, Divjak has told the Balkan Insight that it can be easily proved that only seven soldiers were killed, and all captured soldiers released two days later.