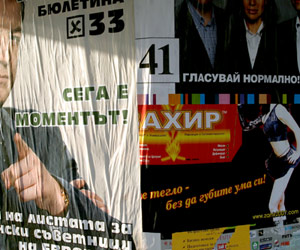 If elections were to be held today, five parties would secure parliamentary seats, Lidia Yordanova from the National Public Opinion Centre (NPOC) announced Tuesday.
There are no major surprises in the latest announcement. The four, long-running top contenders to make their way to the next parliament remain the same – the center-right Citizens for European Development of Bulgaria (GERB), the Bulgarian Socialist Party (BSP), the ethnic Turkish Movement for Rights and Freedoms (DPS) and nationalist Ataka.
The rightist Union of Democratic Forces (UDF) is somewhat of a newcomer to the group – the latest polls show the party has a great chance of entering parliament.
Other parties set to win parliamentary seats include the Democrats for Strong Bulgaria (DSB) and the newly founded Movement "Napred" (Forward).
Yordanova pointed out that it was highly unlikely that GERB will win a parliamentary majority.