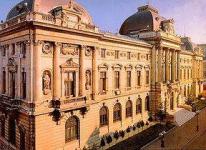 Romania's President Traian Basescu addressing parliament on Monday asked "for solidarity and austerity" as he sought to prepare the public for possible International Monetary Fund, IMF, aid in a bid to shore up his country's faltering economy.
"The country will have to pay now for the lack of structural reforms during the last two years. Now we need an external loan as a safety measure against the effects of the global credit crunch. Romania may get a loan from the European Union, but only in the context of an additional agreement with the International Monetary Fund", Basescu said in an extraordinary key note.
Romania is facing a threat of recession and a potential financing crisis due of its heavy dependence on foreign cash at a time of liquidity shortages. An IMF delegation will visit Bucharest this week, following preliminary discussions already held in Washington for a loan.
If Romania does take out a loan, it would be the next country in eastern Europe after Hungary, Latvia, Ukraine and Belarus to receive international assistance. Economists say the country needs around 10 billion euros for short-term debt servicing and to cover public spending. The government has also approached the EU over possible financial aid.
Romania's economy is expected to slow to less than 2 per cent growth in 2009, down from last year's buoyant growth rates of between 8 and 9 per cent.