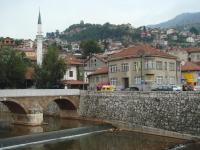 In its latest report, one of the leading international think-tanks, the International Crisis Group, ICG, has warned against the early departure of international political and military presence in Bosnia.
"While Bosnia and Herzegovina's time as an international protectorate is ending, which is in itself most welcome, now is the wrong time to rush the transition," reads the report published on Monday evening.
"Tensions are currently high and stability is deteriorating, as Bosniaks and Serbs play a zero-sum game to upset the Dayton settlement. Progress toward EU membership is stalled and requirements set in 2008 for ending the protectorate have not been met."
The report, "Bosnia's Incomplete Transition: Between Dayton and Europe", is published at the time when the international community – mainly the EU, US and Russian leaders – debate the appointment of a new High Representative, as well as a possible continuation or closure of its mandate.
Following the surprise early departure of the latest High Representative, Miroslav Lajcak – who left Bosnia in February to take up post of Slovak Foreign Minister – Europeans, Americans and Russians have been negotiating about a possible successor candidate.
Former Austrian ambassador to Bosnia, Valentin Inzsco, seems to have the most chances at the moment. His candidacy was supported by the EU and after initial reservations, apparently also accepted by the American administration. Inzsco is currently on his way to Moscow to meet and be assessed by Russia.
Bosnia's new High Representative is expected to be agreed upon and officially appointed at the next meeting of representatives of all countries engaged in peace-implementation process in Bosnia, embodied in so-called Peace Implementation Council, PIC.
PIC's next meeting, scheduled for March 26-27, should also decide the timing and modalities of the transition from the Office of the High Representative, OHR, into a new Office of the Special EU Representative, EUSR.
At these crucial times, the ICG report assesses the situation both in Bosnia as well as within the international community, and offers some key recommendations for future international engagement in the troubled country.
According to the ICG assessment, the transition from OHR into EUSR should not be rushed and should not take place probably before the end of this year.
At the time of the worst political crisis since the end of its 1992-1995 war and the worsening economic and social crisis, ICG argues that the new High Representative "should hold his or her major powers in reserve but act creatively to unblock deliberate obstruction."
It also urged the EU to take a stronger and smarter approach.
"If the EU approaches Bosnia like any other accession country, it will fail," the report warns. "A strong EU mission will be needed to continue encouraging Bosnia toward European integration."
ICG also argued against any further reduction of the EU peacekeeping force, EUFOR, and in favor of a stronger presence of NATO in the country.