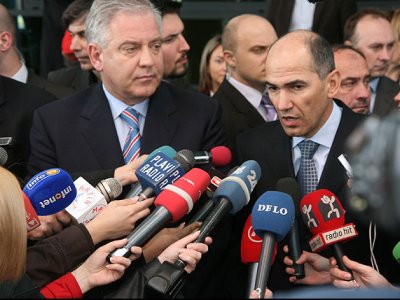 The Slovene magazine revealed that the Slovenian secret service wiretapped conversations between Slovenian and Croatian PM's.
The Slovenian magazine Dnevnik last October requested of the government the recordings of all telephone conversations between Croatian Prime Minister Ivo Sanader and the former Slovenian Prime Minister, Janez Jansa, from 2004. In June 2007, Dnevnik revealed that the Slovenian secret service "Sova" had illegitimately wiretapped the two politicians.
'Secret information must remain secret'
Subsequently, former Slovenian PM Tone Rop spoke about how Sanader and Jansa had arranged incidents in the Piran bay. The Dnevnik magazine then again requested the recordings of the conversations because, it the wiretapping was illegal, they should not be hidden from the public.
The government decided to keep the information Dnevnik required a secret still. Dnevnik complained and listed arguments contrary to the government's, remaining adamant that it had the right to availability of the recordings. Due to their opposing views, it is not clear what is true and what is not.
The government explained its decision saying that "secret information must remain secret because their revealing would easily bring on harmful consequences for the country and the maintaining of good international relations".
For Dnevnik, this argument is unacceptable because the wiretapping was illegal. "Sova" is not authorised to eavesdrop on whomever they choose and the information was illegally marked as confidential.
An information expert, Natasa Pirc Musar, will have to made the decision. Because of the lawsuit Dnevnik filed at the Constitutional Court, she will request the recordings that the court did not allow several months ago when an appeal was filed.