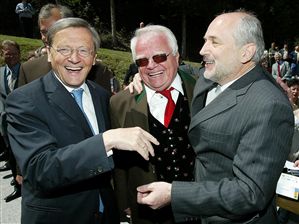 Austrian diplomat is now all but certain to become the international community's representative.
An Austrian diplomat, Valentin Inzko, has been appointed to be the European Union Special Representative (EUSR) to Bosnia and Herzegovina after the United States government dropped its opposition.
The appointment was made by EU member states in a written procedure that ended today (11 March), more than two weeks after EU foreign ministers backed Inzko on 23 February. His appointment ran into problems because the US had hoped for a more senior candidate and felt insufficiently consulted.
Inzko was in Washington on 6 March, and diplomats suggested that he managed to dispel American reservations during the visit. He also met Russian officials in Moscow.
A spokesman for Michael Spindelegger, Austria's foreign minister, confirmed the appointment this afternoon, as did diplomats in the office of Javier Solana, the EU's foreign policy chief. Both sides stressed, however, that it would not be made public until the Peace Implementation Council (PIC), which includes the US and other non-members of the EU, meets in Sarajevo on 25 March to appoint an international high representative to Bosnia. Since 2002, the high representative has also served as EUSR. Now that Inzko has received the backing of the Americans, his appointment as high representative is no longer in doubt.
In the past, the PIC has appointed a high representative before EU member states approved the same candidate as EUSR. This was possible because the European Commission, the EU's rotating presidency and several EU member states are members of the PIC. The practice was abandoned in this case because the EUSR's mandate expired at the end of February, and a seamless transition would have posed fewer administrative challenges than the current situation.
The PIC meeting on 25 March was initially set to decide that the Office of the High Representative (OHR) should be closed down by the end of June, leaving the EUSR the main international player on the ground. This now appears unlikely given the deteriorating situation in the country. A series of conditions for the OHR's closure have not been met.
The office of EUSR had been vacant since 7 February, when the previous EUSR, Miroslav Lajčák, took up his new post as foreign minister of Slovakia.
Inzko is the second Austrian to serve as high representative, after Wolfgang Petritsch, in office between 1999 and 2002. An ethnic Slovenian, he is the current Austrian ambassador to Slovenia. A fluent speaker of Serbo-Croatian, he was his country's first ambassador to Bosnia following independence from Yugoslavia and the 1992-95 war. Between 1999 and 2005, he headed the south-east Europe department at the Austrian foreign ministry in Vienna.