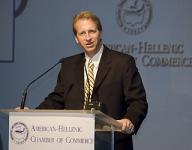 The US ambassador to Greece, Daniel Speckhard voiced hope that the burning Athens-Skopje name row will be solved in 2010, local media reported on Friday.
Ambassador Speckhard noted this in a speech at the Woodrow Wilson Center, on the theme "Resilience and Transition: Resetting US- Greece Relations," the local Makfax news agency reported.
"I personally hope that next year we will see certain progress. I know that I said this last year but I'm an optimist because this is a political season in Greece's neighbor," he said referring to the ongoing double presidential and local election in Macedonia. 
"In the near future, this issue will be put behind and it will be easier to focus on the essence and to find a solution acceptable to Greece and its neighbour," Ambassador Speckhard said.
The ambassador noted that the United States will continue its engagement in helping both countries, but said both Greece and Macedonia should seek a solution within the framework of the ongoing United Nations talks.
The 17 year-long row between these countries, last year left Macedonia outside NATO due to a Greek veto of its membership bid. Athens argues that Skopje's use of the name Macedonia implies its territorial claims on Greece's own northern province of the same.
The former US president George.W Bush made a decision to recognise Macedonia's name and has been strong supporter of Macedonia's NATO integration and solving the dispute.
Analysts in Macedonia fear that the current president Barack Obama will not put the issue so high on the agenda thus allowing the row to linger on without the US to push for a deal.
Greece has threatened to block Macedonia's EU accession as well if the country continues refusing to change its name.