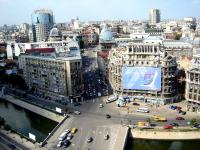 Romanian Foreign Minister, Cristian Diaconescu, on Friday said he is "concerned and worried" due to the situation of Romanian nationals, who are "systematically" denied access to neighboring Moldova.
"I have requested an explanation from the Moldovan Foreign Ministry regarding the reasons why Romanian nationals are systematically denied access to Moldova. We have expressed our concern and worry about the way in which these citizens have been treated," Diaconescu said during a press conference.
Minister's reaction came soon after sixteen Romanian tourists on Thursday were denied access to the Republic of Moldova without any explanation from the custom officers.
Moldova was part of Romania from 1918 to 1940 until it was annexed by the Soviet Union. Moldova became independent in 1991 and the two countries share the same ethnic and linguistic background.
But relations often have been marred by suspicion and have sunk to a new low under the presidency of Vladimir Voronin, with the Moldovan leader accusing Romania of trying to seize his country.
In 2007 Moldova stopped Romania from opening two consulates in the country claiming Bucharest was trying to lure Moldovan citizens, and late last year, Moldova's government presented the Romanian ambassador with a document calling on Bucharest to refrain from making 'provocative statements' against Moldova's statehood, sovereignty and territorial integrity.