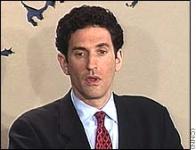 Kosovo recognitions will very much depend on the authorities' commitment to the process, says James Rubin, Diplomatic Advisor to the US Secretary of State.
In an interview for Kosovo's private television, RTV21, Rubin declared that "the long battle for recognition will depend on the policies Kosovo's leadership is about to undertake."
Acknowledging the question of Serbian integration into Kosovo's institutions, Rubin declared that integration is only feasible if the country will experience stable growth and support responsible economic development. 
According to him, the US State Secretary will continue to support Kosovo's people as did her husband, former American President, Bill Clinton.
James Rubin is known in Kosovo as a former spokesperson for the US State Department during the conflict in Kosovo and he is currently a Diplomatic Advisor for Hillary Clinton and US President, Barack Obama.
Rubin is married to world renowned and respected CNN journalist, Christiane Amanpour, who has covered the Kosovo conflict since 1999.