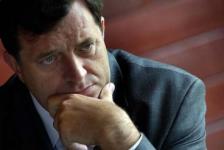 The Bosnian Serb leadership and western diplomats are on a direct collision course as neither side appears ready to back down only a day before the expiration of an ultimatum issued by High Representative to Bosnia Valentin Inzko.
The Assembly of the Serb-dominated Bosnian entity of Republika Srpska is expected to meet later today, but it seems that officials will not even discuss Inzko's demand that Bosnian Serb political parties withdraw a May 14 declaration calling for the return of competencies transferred from the entity to the state and an end to the use of the High Representative's sweeping powers. 
Consultations among Bosnian Serb political parties on Tuesday evening showed no willingness to meet Inzko's demand and turn the disputed, legally-binding May 14 Assembly conclusions into a non-binding declaration.
"Consultations among political parties took place … and all parties which participated in the adoption of the [May 14] conclusions still maintain that they [the conclusions] do not have anti-Dayton and anti-constitutional characteristics," Republika Srpska Assembly speaker Igor Radojicic told media on Tuesday evening.
In the most blatant challenge to the international community so far, Republika Srpska Prime Minister Milorad Dodik said Inzko could even use his broad governing powers to abolish the disputed Assembly conclusions, but that they would be implemented nonetheless once the Office of the High Representative, OHR, finally closed its doors in Bosnia.
Dodik also said he did not accept Inzko's recent decision to dismiss two police officers, a Bosnian Serb and a Bosniak (Bosnian Muslim).
"My message to Inzko is: For us this is unacceptable, we do not recognize that decision because it was brought without reason and without justification. You are stranded Mr. Inzko," Dodik told reporters in Banja Luka on Tuesday.
Dodik's message comes at the climax of the weeks-long "new war" between Bosnian Serbs and the international community.
Western diplomats told Balkan Insight that the current situation was causing serious and growing concerns among the international community, because no end can be seen in the escalating conflict, which threatens to further destabilize the country.
Two weeks ago, High Representative Inzko gave the Republika Srpska Assembly a June 11 deadline to abolish the disputed declaration, saying it was in violation of the OHR's authority and Bosnia's Constitution.
Bosnian Serb leaders snubbed the ultimatum and invited Inzko to meet with them and further explain his demands. On Monday, Inzko travelled to Banja Luka and met with Dodik and other Bosnian Serb leaders.
Inzko suggested to Dodik that the Assembly turn the disputed declaration into a non-binding resolution. Dodik apparently rejected this option and both sides remain firm in their positions.
On Monday, in an apparently unrelated but telling development, Inzko used his broad governing powers to sack two senior police officials.
Bosniak Himzo Djonko was removed from his position as the Police Commissioner of Herzegovina-Neretva Canton for instructing others to threaten physical harm to internationally protected persons, incuding OHR staff, in order to obstruct an enquiry into his abuse of office.
Bosnian Serb Radislav Jovicic was fired from his position in the State Investigation and Protection Agency, SIPA, for using SIPA personnel and resources to conduct surveillance of international officials, including the OHR and its staff, the OHR said in a written explanation.
This was the first time that Inzko, who took over the OHR at the end of March, used his powers to sack local officials. His predecessor, Slovak diplomat Miroslav Lajcak, left Bosnia earlier than expected after losing international support and effective ability to see his decisions implemented in reality.
Inzko's use of his sweeping Bonn governing powers triggered expected fury among Bosnian Serbs, with Dodik warning that no such decision would have lasting effects on the ground.
Meanwhile, all western diplomats and ambassadors in Bosnia have strongly rallied in suppport of Inzko.
If the Bosnian Serb leadership refuses to withdraw or reformulate their disputed conclusions, Inzko is expected to use his powers again to abolish the disputed document. Some media also speculate that further sanctions against Bosnian Serb leaders could be possible, which would certainly trigger new strong reactions from Bosnian Serbs.