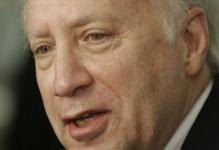 The UN-sponsored Athens-Skopje "name" talks will likely resume later this month in Brussels or Geneva, local media in both countries, say citing unnamed diplomats.
During the week of June 20, UN mediator Matthew Nimetz will meet with negotiators Adamantios Vassilakis from Greece and Zoran Jolevski from Macedonia to resume the stalled talks, Macedonia's A1 TV quoted unnamed diplomats in Skopje as saying on Wednesday.
Balkan Insight has not been able to verify this report and there has been no official confirmation by either side or by the UN mediator.
Following the reported June meeting, Nimetz will travel to Skopje and Athens, most likely on July 6 and July 8, according to Greek City radio.
The talks have been stalled since the end of last year. The last meeting that Nimetz held with both countries' representatives was on February 11, after which they were frozen due to elections in both countries.
Athens and Skopje are engulfed in a long-standing row over the use of the formal name of Macedonia. Last year, the row escalated after Greece blocked Macedonia's otherwise sure NATO entry over the dispute.
Greece argues that the name Macedonia, which is the same name of Greece's northern province, implies Skopje's territorial claims towards it.
The last proposed solution to the name dispute according to media speculation was to officially name Macedonia "Northern Macedonia".
Western officials are keen to see a quick solution to the dispute in order to move ahead with Macedonia's NATO membership.