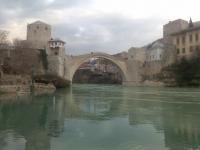 Tensions are running high in Mostar, in southern Bosnia and Herzegovina, following the murder of a member of a local radical Muslim Wahhabi sect. "The town is still tense," Mostar journalist Mirsad Behram told Balkan Insight on Monday.
Local police are continuing their investigation into the incident, which took place last Wednesday when a mass brawl broke out between a group of local Bosniak (Bosnian Muslim) residents, who were sitting in a café, and several members of a local radical Muslim Wahhabi sect, who were leaving a mosque after evening prayers.
Several people were seriously injured in the scuffle. One of the Wahhabi members, 35-year old Magdi Dizdarevic, died from severe head injuries suffered in the brawl two days later. He was buried in Mostar on Saturday in a ceremony attended by several hundred friends and co-religionists from across the country.
On Sunday, new graffiti appeared in town, calling for the death of one of the residents believed to have been involved in the brawl. On Monday, Mostar appeared calm as the public awaited the results of the police investigation.
So far, police have been unable to confirm who started the brawl and who is responsible for the death of Dizdarevic. A poor quality video, purportedly of the brawl, was uploaded on YouTube.
The incident in Mostar underlined growing tensions between Bosnia's historically moderate Muslims and a small but visible and increasingly assertive Wahhabi sect.
Bosnia's influential Islamic Community has condemned the incident, saying it was motivated by growing "Islamophobia" orchestrated by some politicians and the media.