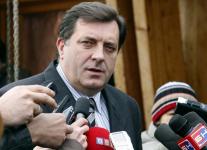 The ruling party in Bosnia's Republika Srpska entity has called for foreign judges and prosecutors to be removed from the country's judicial system and for the closure of the Office of the High Representative, OHR.
In a Sunday press statement, the Alliance of Independent Social Democrats, SNSD, alleged that Bosnia's state court and prosecutor's office are OHR minions. 
The SNSD demanded that the "mockery" of foreign judges and prosecutors' mandate should be brought to a close by the end of the year. The party also demanded that the closure of the OHR should be completed by year's end and that the OHR finally be transformed into the office of the EU Special Representative, EUSR.
The SNSD statement may signal a new hardening of the Bosnian Serb leadership's position towards the international community in Bosnia.
The party and its leader, Republika Srpska Premier Milorad Dodik, have been criticising the OHR for years. Last year, Republika Srpska pressed criminal charges against a group of local and foreign officials, including the deputy high representative, US diplomat Raffi Gregorian.
The SNSD is bridling at the presence of several western legal experts who, together with other international judges and prosecutors, serve in Bosnia's judicial bodies in order to boost their capacity and performance. The mandate of foreign legal experts expires by the end of the year and local leaders have so far been unwilling to extend it.
Under strong international pressure, Bosnia's state government, the Council of Ministers, adopted a draft law in July which proposed extending the mandate of international judges who work in the appeals at the BIH court. The Council of Ministers' decision has now been submitted to Parliament.
However, this draft law may now be facing tough times after the SNSD press release accused foreign experts of only prosecuting Bosnian Serbs and Croats.
"Bosnia and Herzegovina cannot be called a country as long as its citizens are being prosecuted by foreign diplomatic agents," the statement read.