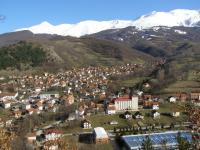 Residents of Strpce, Kosovo are receiving electricity for the first time in 34 days, the head of Strpce municipality, Zvonko Mihajlovic, told the Tanjug news agency on Monday.
The power supply has yet to resumed for several major customers, including the post office, Raiffeisen bank and Serbian telecommunications company Telekom, due to outstanding debts, the head of the Kosovo Electricity Corporation, KEK, in the town of Urosevac, Izet Rusiti, told daily Blic.
Up to 13,000 Serbs and 3,500 Albanians have been without power since June 30.
The outage became a burning issue for local residents, since local Serbs have outstanding electricity debts dating back to 1999. Mihajlovic had earlier expressed his concern regarding the living conditions of residents left without power, saying he worried about the potential impact on children's health and on those suffering from various illnesses.
Agreement was reached on payments and the resumption of electricity supply after a series of talks between representatives of local Serbs and KEK officials. It was agreed that the power would be turned on when 70 per cent of households in the municipality had made initial payments of €26 each.