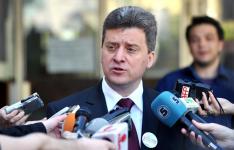 MACEDONIA
Essential progress has been achieved in the Athens-Skopje UN talks over Macedonia's official name, but a final resolution is still a long way off, Macedonia's president says.
Greece and Macedonia responded last week to the latest set of ideas on the naming dispute put forward by UN mediator Matthew Nimetz.
President Georgi Ivanov's cabinet released the the statement claiming progress has been made over the weekend.
On Friday, Macedonian negotiator Zoran Jolevski handed Skopje's response to Nimetz in New York.
Although the details of the Macedonian response were not officially disclosed, local media speculated that Skopje had largely accepted Nimetz's idea to add the term Northern to the state's official name, Republic of Macedonia.
In post-meeting comments, Jolevski sufficed with pointing out that his country continues to participate in efforts to end the dispute.
Greece reportedly had some complaints about the latest set of ideas in its official response, passed on earlier in the week.
Last year, Greece blocked Macedonia's NATO entry over the row. Athens argues that Skopje's name implies that it is making territorial claims on its northern province of Macedonia.
While Macedonian authorities fear that Athens could seek to delay the negotiations – due to possible early Greek elections – they believe Athens is unlikely to veto their country's EU accession negotiations, should the European Commission propose a date for the start thereof this autumn.