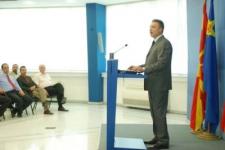 MACEDONIA
Offering solutions to the country's painful economic problems and promoting social justice and equality are the key foci of the new platform of Macedonia's largest opposition party, the Social Democrats.
The platform, dubbed "Solutions for Macedonia", is aimed at providing a counter to the ruling VMRO-DPMNE party's own "Revival in 100 Steps" and was promoted at the Social Democrats' congress on Saturday.
Sustainable annual economic growth of six per cent, investment surpassing 31 per cent of GDP, and higher taxes for those with means – as opposed to the flat tax policy of VMRO-DPMNE – are all envisaged in the platform.
The programme is aimed at setting the country's course "towards Brussels and Europe", leader Branko Crvenkovski said. He blamed the ruling party for waging a populist policy without real economic effect, and for setting back Macedonia's integration into NATO and the EU.
After three years of VMRO-DPMNE rule, the country still has a staggering unemployment rate of around 34 per cent and an average wage of some 250 euros.
Social Democrats pledged to stop offering subsidies solely to investors and vowed equal treatment for all.
The party foresees the introduction of a careers system in the public administration to destroy party influence therein, better care for farmers, social welfare improvements for pensioners and hospital reforms.
Following the return of their former, long-standing leader, Crvenkovski, earlier this year, the party, which has lost several elections to the VMRO-DPMNE since 2006, underwent radical personnel changes.
The Social Democrats also changed their logo from a red rose in front of a yellow star to a fist, a move they said was intended to show their resolve.