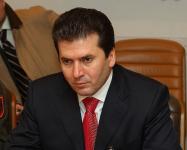 ALBANIA
On Monday, Albania's Supreme Court will reopen the case against environment minister designate Fatmir Mediu, indicted in connection with a deadly blast at a munitions depot in March 2008.
The Supreme Court panel is reviewing charges against Mediu of abuse of power, relating to his tenure as defence minister in the previous government.
The explosion at a Gerdec munitions depot on March 15, 2008, killed 26 people, injured over 300 and left over 3,000 homeless.
General Prosecutor Ina Rama filed cases with the Supreme Court in March, indicting 29 people for their actions in relation to the explosion, among them former senior Defence Ministry officials. The charges range from abuse of power to murder.
The cases against all the other defendants were sent to the Tirana District Court.
Amongst those indicted are former chief of staff Luan Hoxha, General Shpetim Spahiu and General Zija Bahja. All have denied any wrongdoing. If convicted, they face up to seven years in prison.
Both Mediu's Supreme Court trial and those of the defendants facing charges before theTirana District Court have been delayed repeatedly.
The government estimates that the explosion caused more than 20 million euros in damage to the surrounding area. The emergency services say that 400 houses were totally destroyed, 188 were severely damaged, 200 sustained major damage and 1,600 others were slightly damaged.
The explosions began as workers were moving stocks of old Chinese and Soviet shells stored at the base, once a central collection point for the arsenal amassed by the communist-era dictatorship of Enver Hoxha. Albania had been trying for years to dismantle the obsolete arsenal, which was one of the conditions for the country's subsequent entry into NATO.