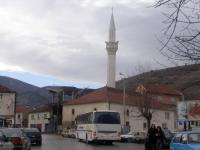 ALBANIA
Over the weekend, ethnic Albanian political leaders from Presevo and Bujanovac spoke with Kosovo's President Fatmir Sejdiu in Pristina about the problems they are facing in southern Serbia.
They told Sejdiu that Serbia's failure to recognise Kosovo university diplomas was one of the gravest challenges.
The speaker of the local assembly in Presevo, Skender Destani, told Balkan Insight that this is the most serious issue facing ethnic Albanians with Kosovo diplomas as they seek employment in Serbia.
"A lot of Albanians are studying in Kosovo, but Serbia does not recognise diplomas verified by the seal which says 'Republic of Kosovo'," said Destani, who heads the Democratic Union of the Valley.
Destani said that President Sejdiu promised he would try to resolve the problem in talks with representatives of the international community, since Serbian authorities do not recognise Kosovo's institutions.
Serbia was recognising diplomas issued by Kosovo universities under the UN misson in Kosovo, UNMIK, seal until Kosovo proclaimed its independence on February 17, 2008.
In Serbia there are no institutions of higher education in the Albanian language, which is why young Albanians are forced to go to school in Kosovo, Albania or Tetovo, a town in western Macedonia.
The ethnic Albanian delegation also included Riza Halimi, the only Albanian MP in the Serbian parliament, and the mayors of Bujanovac and Presevo, Shaip Kamberi and Ragmi Mustafa.
Sejdiu told his guests that he was committed to a policy that protects human rights and includes "cooperation between two sovereign states, in the interests of citizens of both countries". He added that "international standards and conventions on human rights must be respected in Serbia, too".
Presevo and Bujanovac, are southern Serbian municipalities with a majority ethnic Albanian population, which border Kosovo and Macedonia. These areas experienced short-lived armed conflicts in 2000 and 2001 between Serbian security forces and Albanian insurgents, brought to an end through NATO mediation.