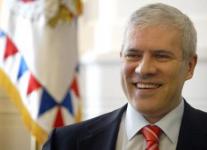 SERBIA
The head of the Democratic Party, Serbian President Boris Tadic, announced at a party board meeting on Saturday that the country is facing a difficult economic recovery and will be implementing serious reforms, broadcaster Mondo reported.
Announcing a decrease in public spending, Tadic underlined that public sector layoffs are necessary.
"If there are sackings in the [public] administration, that will mean securing new jobs in the economy," he said. Tadic also urged the creation of productive jobs that will lead to economic and social stability and an increase in the standard of living.
Tadic says that all indicators show that the economy is now in a better state than earlier this year, expressing hope that even better results will be secured in coming months.
He pointed out that Serbia has no alternative but to pursue EU integration, despite its desire to have strong relations with other countries and the Non-Aligned Movement.
"Don't be confused by the fact that Serbia is renewing her ties with other countries as well, because everything we do has only one goal: Serbia's EU membership," Tadic told the meeting.
Speaking of efforts to develop a regional system within Serbia, he explained that its purpose is not to create new political centres or quasi-states but to provide smooth development for all regions, Mondo reports.
The president also said that the application of the recently adopted, and highly controversial Law on Information, which has been criticised as an effort to delimit press freedoms, will be "monitored carefully".